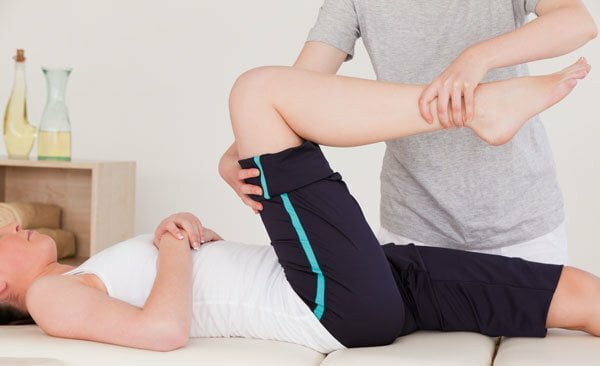 Physiotherapy is a self-regulated profession that encompasses the training to treat a broad array of medical conditions. Physiotherapists have a University degree and are primary health care providers skilled to assess, diagnose, and treat a variety of health conditions. 
They incorporate their comprehensive knowledge of the human body and translate it into a customized treatment plan specific to the individual, injury, diagnoses and goals.
Acute Injury Care Management of sprain or strains (for example, a sprained ankle, or strained calf muscle) will be offered. It's our goal to accommodate our patients and provide immediate assessment; our management staff will try our best to ensure acute injuries receive same day assessment. (Excluding Sundays as clinic is closed.) Treatment will include education, exercise program, and manual therapy to minimize pain and swelling. Treatment may also include anti-inflammatory electrical modalities such as ultrasound, laser therapy and/or interferential current (IFC), application of ice, as well as, protective bracing/splinting/taping. Acupuncture may also be used upon patient consent to reduce swelling and pain.
Most repetitive strains or sprains come about due to training areas, underlying instability issues, and/or weaknesses in specific muscle groups. Treatment of these specific injuries would include thorough education, activity modification/ retraining, exercise prescription (range of motion/stretches, strength, and stability), as well as bracing, splinting or taping if the therapist deems this appropriate. Treatment may also include anti-inflammatory electrical modalities such as ultrasound, laser therapy, interferential current (IFC), or Acupuncture. All to facilitate improved function and minimize pain.
In the rehabilitation of sports related injuries, it is imperative to assess and treat in a timely fashion in order to facilitate return to pre injury status and return to sport. Exercises prescribed will be sport specific to the athlete to maximize, strength, endurance, range of motion impairments and flexibility, as well as coordination and balance. Treatment may also include anti-inflammatory electrical modalities such as ultrasound, laser therapy, Interferential current (IFC), or Acupuncture. The goal is to achieve utmost athletic performance and minimize the risk of re injury in the future.
All Surgical diagnoses will be treated with an individualized program specific to your rehabilitation goals pre and post operatively. Our clinician's are skilled in the physician protocols pertaining to your specific surgical interventions. They will assist you with exercise prescription, manual therapy and education. Whilst also communicating with the surgeon throughout your treatments with us to ensure continuity of care, an ideal recovery, as well as, optimal rehabilitation outcomes.
Arthritis means inflammation of a joint. A joint is a part of the body where the bones intersect. Inflammation is a medical term encompassing pain, redness, stiffness, and swelling. Arthritis can occur at any joint in the body but it most commonly occurs in weight bearing joints such as the hip, knee and spine. Arthritis can be very painful and disabling if left untreated.
There are 100+ types of conditions that fall under the umbrella term of Arthritis; these conditions are all listed on www.arthritis.ca.
The arthritic conditions that are more commonly treated by Physiotherapists are Osteoarthritis, Rheumatoid Arthritis, Ankylosing Spondylitis, as well as, Fibromyalgia.
Osteoarthritis is the most common form. It is often treated with medication, manual therapy, soft tissue release, exercise prescription, as well as education. Treatment may also include anti-inflammatory electrical modalities such as ultrasound, low level laser therapy, Interferential current (IFC), or Acupuncture.
Untreated inflammation can eventually lead to joint damage, destruction and disability. Undergoing treatment for your Arthritis can prevent it from worsening and thus potentially eliminate the need for joint replacement surgery in the future.
Physiotherapists are highly skilled and trained in manual ("hands on") Physiotherapy. Our team feels Manual Therapy is an asset to overall patient recovery and symptom management such that we provide longer treatment times to ensure a more thorough treatment experience and more time for hands on manual therapy and one on one time with your Physiotherapist. 
Manual therapy involves the treatment of several musculoskeletal diagnoses by the use of the Physiotherapist's hands. Such as, soft tissue release, acupressure or trigger point release, joint mobilizations and/or manipulation, manual traction (elongating the spine), passive stretches and/ or muscle energy techniques
The Temporomandibular Joint connects your jawbone to the skull. Temporomandibular dysfunction (TMD) are conditions often triggered by teeth grinding, clenching, jaw injury or arthritis. TMD conditions often cause pain in front of the ear, the jaw, the mouth and often the pain radiates into the neck, and/or creating headaches. Physiotherapists will assess, diagnose and treat these conditions. As well as, refer the patient to other health care professionals including physicians and dentists if deemed necessary.
Our Physiotherapists are trained in this esteemed and innovative soft tissue technique. The use of these sophisticated stainless steel instruments allow Clinicians to identify and efficiently break down scar tissue and Myofascial adhesions, thus reducing pain and improving range of motion. The stainless steel instruments resonate over irregularities in soft tissue (the instrument will gently vibrate into the clinician's hand. Thus this tool is not only highly effective for treatment of soft tissue adhesions but it also a valuable diagnostic tool for the Clinician).
Is this technique an extra fee outside my Physiotherapy rate of treatment?
This technique does not cost any extra and is just a part of your regular Physiotherapy session if your Clinician deems it appropriate.
Is the Graston Technique painful?
The Graston technique can be slightly painful, not any more so than soft tissue release. However, it can be more effective to debride scar tissue and soft tissue adhesions. Minor bruising can occur, however, due to the stainless steel instruments resonating over irregularities in soft tissue, thus resulting in minor disruption of capillaries of the skin hence leading to minor bruising.
If you've unfortunately suffered a motor vehicle accident, Manitoba Public Insurance (MPI) will compensate you for Winnipeg Physiotherapy treatments necessary in the amount pertaining to the degree of your injuries. It is important to call them in a timely fashion after your accident and make a bodily injury claim if you are suffering from symptoms.Your Physiotherapist will assess you and report their examination findings to MPI. Your treatment will then be categorized and your clinician will inform you of the number of visits deemed necessary to assist you in returning to your pre incident function.
Do I need to see my doctor prior to seeing a Physiotherapist after my accident?
You do not need to see your family physician prior to coming for Physiotherapy; we do not require a doctor's note, as we'll do our own thorough musculoskeletal assessment. If we deem you may benefit from any medicines or feel further investigation or imaging is required we will ask you to see your physician to address these concerns. As your family physician is important in your health care we always suggest you see him/her to let them know about the motor vehicle accident to ensure continuity of care.
What are common injuries Physiotherapist treat after motor vehicle accidents (MVA)?
Common injuries include: Whiplash, muscle strains or tears, ligament sprains or tears, headaches, joint dislocations, fractures, TMJ (jaw) pain, as well as neck and low back pain.
What is the process for contacting MPI?
Contact MPI at 204-985-7000 and let them know you'd like to make a bodily injury claim. Report all symptoms you are experiencing post incident. They will then supply you with a claim number to keep for your records. This number will be different than your vehicle damage claim number.
Then you can contact us at 204-813-FIT4 (3484). Our friendly staff will set you up with a convenient appointment time. Let them know that you have made a bodily injury claim and supply them with the number. This will allow us to direct bill for your Physiotherapy appointments on your behalf.
Then when you come for your Initial Assessment your Physiotherapist will create a treatment plan for you. If temporary workplace restrictions or reduced hours are deemed appropriate this will be communicated to your case manager at MPI, as well as, your Employer. Your Physiotherapist will be in communication with MPI as your advocate throughout your entire Rehab process. We look forward to supporting you through your recovery process!
For more information on Manitoba Public Insurance visit their website at www.mpi.mb.ca.
If you've unfortunately injured yourself in a workplace incident, the Worker's Compensation Board (WCB) will compensate you for a Physiotherapy Initial Assessment once an injury claim has been made. Your Physiotherapist will conduct a thorough examination and report their findings to your case manager at WCB. Upon approval of your workplace injury claim, 20 Physiotherapist sessions will be authorized.
Your skilled clinician will devise a treatment plan including exercise prescription and education, providing you with the necessary tools to recover from all forms and grades of workplace injuries. If deemed appropriate temporary workplace restrictions or reduced hours will be communicated to your case manager at WCB, as well as, your Employer. Your Physiotherapist will be in communication with your WCB case manager as your advocate throughout your entire Rehab process. We look forward to supporting you through your recovery process!
For more information on the Worker's Compensation Board call them at 204-954-4321 or visit their website at www.wcb.mb.ca
Customized Reconditioning/Work hardening programs are designed for those injured in serious motor vehicle accidents, workplace injuries, or other significant trauma yielding moderate injuries and potential psychological stresses.
The goal of these programs is to facilitate a customized and progressive exercise program pertaining to the individual's injuries, as well as, their specific job requirements. When it is deemed appropriate the patient will commence a graduated return to work program, easing them back into their workplace demands thus minimizing the risk of re-injury.
Their Physiotherapist, as well as, a personal trainer will be supervising and ensuring all exercises are performed to their entirety, as well as, administered with proper form and body mechanics. The Physiotherapist will be in contact with your case manager throughout the program, as well as, conveying Initial, Midterm and Final Reports.
Your skilled Clinician will devise a treatment pain specific to your needs, goals, and diagnoses. In the treatment plan it may include the use of electrotherapeutic modalities. These machines are designed to aid in treatment of pain, swelling, and muscular weakness. The modalities offered at Fit 4 Life are listed below:
TENS (Transcutaneous Electrical Nerve Stimulation)
The TENS machine has 4 electrodes that will be placed on the affected areas of pain. The TENS unit incorporates the gate control theory which essentially distracts our Nervous System from pain, thus reducing pain.
IFC (Interferential Current)
The IFC machine operates under the same principles as the TENS unit thus reducing pain and swelling. However, the IFC machine allows for deeper penetration of tissue.
NMES (Neuromuscular Electrical Stimulation)
The NMES unit is utilized to stimulate muscle contraction for the treatment of muscular and/or neural deficits, fatiguing muscle spasm, as well as pain reduction.
Low Level Intensity Laser Therapy
Laser therapy in rehabilitation utilizes low level/power laser leds (light emitting diodes) applied to the specific areas of pain or impairment in the body. The laser stimulates and enhances cell function thus improving healing, as well as, reducing pain.
Ultrasound
The Ultrasound unit penetrates sound waves into the affected area to reduce swelling, stimulate healing, break up scar tissue or adhesions, as well as, deep heating to soft tissues.

To speak to a physiotherapist in Winnipeg contact us today!