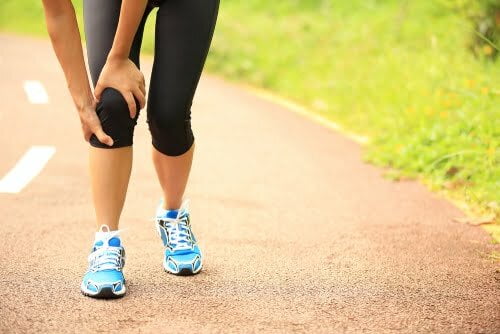 For many athletes, returning to their sport as soon as possible can be an intense experience because returning to the playing field may be difficult when a sports injury occurs. Our Winnipeg Physiotherapists can perform an evaluation and provide the proper treatment necessary for sports injury rehabilitation. With a carefully created sports rehabilitation program, we can get you back in the game as quickly and efficiently as possible.
What Is Sports Injury Rehabilitation?
Sports injury rehabilitation is a multi-disciplinary approach to the evaluation, treatment, and prevention of injuries. Each client that comes to our clinic with a sports injury will be assessed and provided a treatment plan to aid in the healing process, as well as to reduce pain.
How Can It Help?
The sports injury rehabilitation method is a safe therapeutic approach that can assist athletes with numerous issues to achieve optimal performance.
Sports injury rehabilitation can help with an injury by engaging with the following:
Personalized exercises to improve mobility
Targeted exercises to help you return to a pre-sports injury function
Decreased susceptibility to further sports injuries
Education and preparation to avoid recurring injuries
The treatment supplied will be sport-specific to the injured athlete for improving and maximizing strength, endurance, range of motion, impairments, and flexibility, as well as coordination and balance.
What Can Sports Injury Rehabilitation Treat?
Sports injury rehabilitation can treat a wide range of conditions, such as:
Acute sports injuries, such as a knee, ankle, hand, elbow, or shoulder injury
Sprains and strains
Muscle tendon and ligament injuries such as posterior cruciate ligament, anterior cruciate ligament, lateral medial collateral ligament injuries, as well as damage to ankle ligaments, rotator cuffs, etc.
Tendonitis
Shoulder dislocation
Surgical rehabilitation
This form of rehab can also benefit those that are dealing with:
Meniscus tears
Acute and chronic musculoskeletal injury
Tendonitis and bursitis
ACL reconstruction
Post-operative injuries
Common Sports Injuries
Some of the most common sports injuries include the following:
Ligament sprains in the ankle, knees, or shoulder
Muscular strains such as in the groin, hamstring, and neck
Ligament tears such as the ACL or MCL in the knee
Rotator cuff injuries
Dislocations
Fractures
Overuse injuries in sports such as swimming, skiing, cycling, and running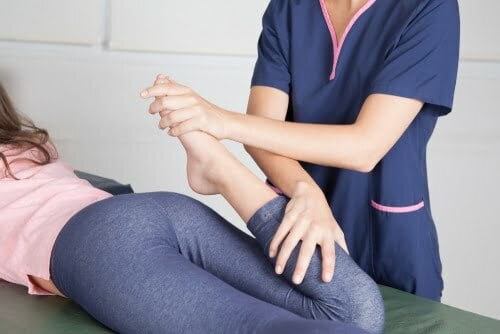 How Does Sports Rehabilitation Work?
Before the sports rehabilitation begins, you'll receive an accurate diagnosis of your condition administered by a Sports Physiotherapist. The beginning of your treatment will include reducing pain or swelling. Once pain management is under control, you'll be prescribed exercises and techniques to target specific goals such as mobility and flexibility training, balance coordination, and joint positioning.
Techniques
Some of the techniques involved in the rehabilitation process include:
Sports-specific exercises and training
Electric modalities such as ultrasound
Laser therapy
Interferential current (IFC)
Acupuncture
Massage therapy
Muscle reconditioning
Bracing and taping
Benefits
Sports injury rehabilitation benefits elite athletes to achieve optimal performance again. Once your athletic injury has subsided, there are other perks you will notice that help during your recovery, such as:
Less pain
Strengthening of weak muscles
Restoring range of motion and flexibility within tight muscles
Increased circulation in the injured area to promote healing
Increased cellular metabolism to encourage the healing process of damaged tissues
Stimulation of joint receptors
Lymphatic drainage
Relief of muscle spasms
Prevention of muscular atrophy


Sports injury rehabilitation is designed to help injured athletes heal faster, reduce pain, and prevent further injury from happening. With the proper help from a Sports Physiotherapist, you may be able to retain all of the skills you need to play your sport better than before.
Can You Avoid a Sports Injury?
Many injuries are caused by engaging in sports, from football and basketball to skiing or swimming. Some injuries may result from wearing improper sports gear or improper training practices. You can also injure yourself if you're already in a poor health condition or not warming up before a game or exercise.
To prevent the risk of chronic injuries and improve your safety during sports, follow these tips:
Wear the right gear: You should always have the appropriate and properly fitted protective gear or equipment. This can include pads, helmets, goggles, etc.
Keep strong: Perform conditioning exercises to strengthen the muscles you use in your sport of choice.
Increase flexibility: Complete stretching exercises before and after games to keep your body flexible. Incorporate these exercises in your full fitness plan to avoid future sports injuries.
Rest: Learn to take breaks when tired or give yourself a day or two to recharge. Always keeping active without giving yourself some much-needed rest can lead to further injury.
Use the proper technique: Ensure that you know the right techniques and rules involved in the sport. If you go against what you've learned, you could inadvertently cause damage to your body that limits your playing time.
Don't play if injured: It's important not to play through the pain, especially if you're injured. This could worsen the state of your sports injury and make it a lot more difficult to heal.


Are you tired of dealing with the pain? Sports injury rehabilitation is a useful treatment option if you're looking to properly heal yourself so you can get back into the game again. Our certified Physiotherapists are well-trained to provide the necessary assessments and treatment plans you need. Make an appointment at our Winnipeg physiotherapy clinic today and begin your injury rehabilitation as soon as possible.