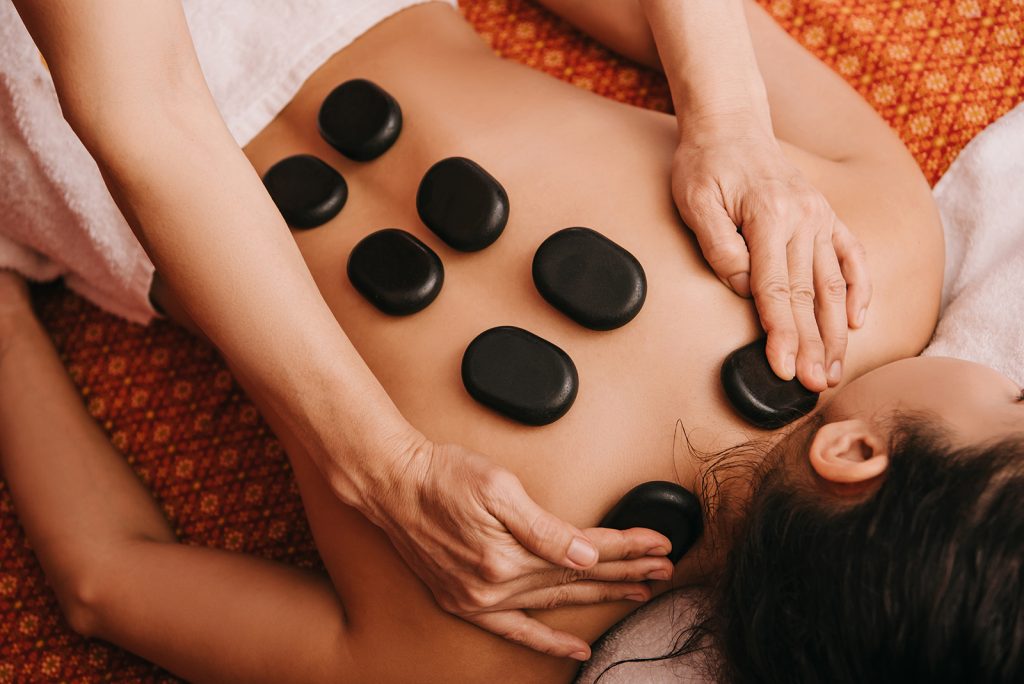 Fit4Life Physiotherapy is proud to offer hot stone massages in Winnipeg. Our aim is to provide you with an amazing and restorative experience that will make you feel comfortable and refreshed. Our licensed massage therapists use warmed basalt stones to ease stress and promote relaxation. This massage is the perfect way to unwind, relax and revitalize your mind, body and soul, especially after a long day. It is a relaxing massage ideal for those looking to find relief from stress, muscle discomfort or those who just want to improve their overall sense of well-being.
What is Hot Stone Massage Therapy?
Hot stone massage therapy is a type of massage that uses heated stones to provide deep relaxation and promote healing. These stones are typically made of basalt, a type of volcanic rock that retains heat well. The therapist places the stones on specific points on your body, while also gently pressing them to massage your muscles. This helps to alleviate poor blood circulation, reduce tension, chronic pain, and promote a sense of relaxation.
How does a Hot Stone Massage Work?
During a hot stone massage, your massage therapist will first warm the stones to a comfortable temperature, typically between 110 and 130 degrees Fahrenheit. They will then place the stones on specific points on your body, such as your back, hands, or feet. The therapist will also use the stones to massage your muscles, applying gentle pressure and heat to help release tension, reduce muscle pain and promote relaxation.
Benefits of a Hot Stone Massage
A hot stone massage offers a wide range of benefits, including:
Muscle tension and pain relief
Increased circulation and flexibility
Improved sleep and relaxation
Anxiety and stress relief
Enhanced overall well-being
The use of hot stones during a massage produces many benefits, including stress reduction, pain relief, and increased relaxation. If you're experiencing muscle tension or pain, hot stones can help increase blood flow in the affected area, improving flexibility and range of motion.
A hot stone massage is typically recommended for people with muscle tension. Warmed stones heat the muscles and relax them under light pressure applied by your massage therapist. Individuals who deal with stress, headaches, insomnia, and chronic fatigue may benefit from the soothing power of hot stone massages.
The best thing you can do is keep hydrated before hot stone massage therapy. The heat from the stones will increase your internal body temperature, which can cause dehydration. Always ensure you communicate with your massage therapist before you receive this service and point out any issues or health conditions they should know about.